Bhutan is totally shut down for the tourism business until further notice of the Royal Government of Bhutan. Only five cases of novel coronavirus were detected in Bhutan so far. As of now, there is no ongoing local transmission. Read more detailed info in this FAQ!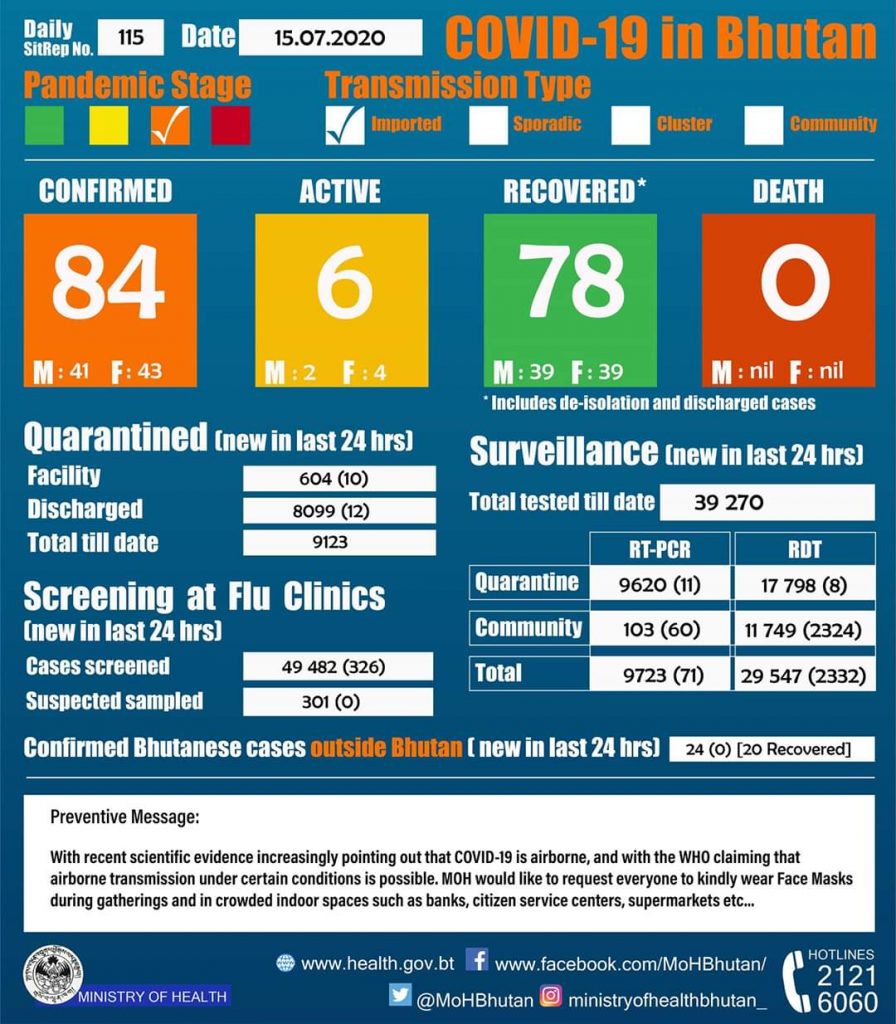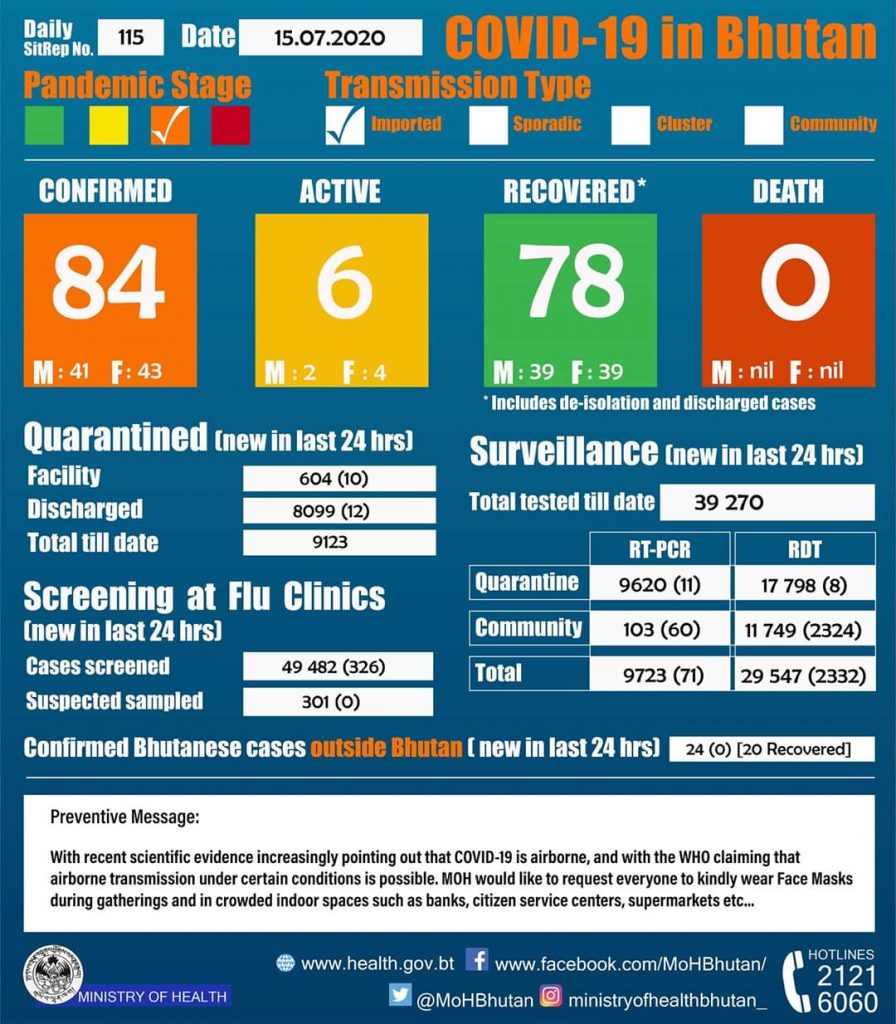 What is the current situation in Bhutan amid the COVID-19 pandemic?
Bhutan has five confirmed cases of COVID-19. The first case, detected on 5th March, was 76 years old American tourist. The second was his 59 years old travel partner. They came to Bhutan from India, where they probably contracted the virus from the unknown source. All primary contacts of the patients were tracked and repeatedly tested with negative results. The first patient got intensive care in Thimphu's National Referral Hospital before being airlifted home in stable and improving condition. The second patient was treated in Bhutan and both first and second patient is already fully recovered. Three subsequent cases were Bhutanese nationals who just returned to Bhutan from abroad and thus had been already quarantined in the time of testing. All their contacts in Bhutan were also tracked and tested negative.
Is it possible to travel to Bhutan now or in the near future?
All tourism visas starting from 6th March onwards are suspended until further notice. Travel also remains subject to various restrictions imposed by the countries through which travelers are entering Bhutan. We are closely following any prospect when tourism might reopen.
What are the current travel restrictions in the transit countries?
If you are not from COVID-19 affected country or you did not transit through one of them, you can transit via Bangladesh, Singapore, and Thailand. India and Nepal are closed for tourism as of now. See below:
When it will be absolutely hassle-free to travel to Bhutan again?
While it is impossible to predict the course of the COVID-19 pandemic, we strongly believe that by September onward, all travel restrictions for Bhutan and transit countries will be lifted. You are quite safe to start planning tours in autumn, although we would recommend not paying non-refundable advances right now. This should not be a problem since advance payments for September or October dates would not be needed before June. There are some chances that Bhutan and transit countries will open earlier, probably by May or June, anyway, there is no guarantee. Also, you better purchase tickets that permit date changes and cancellations.
If I already booked the trip to Bhutan, should I cancel?
If your trip was supposed to start before the end of April, you should definitely reschedule or, if not possible, cancel. Although authorities did not indicate that clearly, we believe there is zero chance for borders to open that soon. If your tour is planned for May onwards, there might be a slim chance of Bhutan being open, but travel restriction in the transit countries might still be a problem. You should consult your Bhutanese tour operator what cancellation conditions will apply in case your tour is canceled in such a case. You should also consider cancellation conditions of your flight tickets as well and then decide accordingly.
What is the Book Bhutan Tour policy towards COVID-19 cancellations?
We in Book Bhutan Tour were refunding the full amount paid for tours and flight tickets to all guests who did not like to reschedule their trips. We will keep this policy towards all COVID-19 related tour cancellations until the situation gets officially back to normal.
Is Bhutan prepared to contain possible COVID-19 outbreak?
As proved by cases described above, Bhutan is capable of proper epidemiological response, tracking all primary and secondary contacts, quarantining them, testing them repeatedly as well as giving first-class intensive care to the patient belonging to the most vulnerable age group. So in terms of healthcare professionals, Bhutan is comparatively more efficient in containing individual novel coronavirus cases than its neighbors. However, in case of a massive outbreak, Bhutan would probably struggle with limited resources as beds, COVID-19 tests, doctors, nurses, medicines, etc.
Is there a danger of a massive outbreak?
Any massive outbreak is unlikely due to Bhutan's small and disciplined population and strong rule of law as well as effective government measures to keep the virus at bay. Tourism is closed and all other arriving travelers including Bhutanese are subject to three weeks of compulsory quarantine. The Border with India was closed from 23rd March. You will probably not find any other country so much isolated from the rest of the world now.
What are the consequences of COVID-19 pandemic to Bhutan?
About 50 thousand Bhutanese people directly rely on tourism. Some of them, especially guides, drivers and hotel staff don't have any savings. Failure of the spring tourism season is literally a disaster for their home finances. Also, tourism is the second biggest industry and revenue maker in Bhutan (first being hydro energy). Government funding for healthcare, education and social sectors will be affected by the tourism revenue loss. In general, Bhutan will get into the economic slowdown and increased foreign debt, which is already too high. So, please, if you don't wish to travel to Bhutan right now, we understand. But if you can come in the fall or next year, we will be keenly awaiting you. Not only you will be rewarded with great experiences but your visit will also help Bhutan to overcome the harsh impact of the novel coronavirus crisis!
What Book Bhutan Tour staffs doing during the COVID-19 pandemic to Bhutan?
We, Book Bhutan Tour guides organize one-day hiking trail cleaning camping from Taba, to above ELC High School Thimphu.
Form the management side acknowledged and much appreciation for all the guides who participated to keep the Bhutan carbon negative country. https://www.bookbhutantour.com/bhutan-hiking-trail-cleaning/
Last updateD on 15th July 2020