All tourists must obtain an E-visa and flight ticket before arriving in Bhutan.
Visas are issued after you have made a full tour payment to the Tourism Council for your entire trip of Bhutan. The money remains with the Tourism Council until your trip inside Bhutan is complete. The travel agency is paid once you have left the country.
As you already should know, the only way to travel to Bhutan is with a pre-arranged tour through a licenced travel agency in Bhutan. Is general information, be careful booking your trip to Bhutan with foreigner travel agencies, they take half of the money and sent lees to a local agent here, eventually services will be not up to the standard. All of the Travel Agencies in the country must follow strict government rules about only visiting government authorized hotels, restaurants, guide, and driver, etc.
If your tour booked with us, so you had more freedom choosing which restaurants, sightseen. We give the choice of Bhutan traditional local foods.
Too honest, if you happened to reserve your trip with big travel agencies would have never got the independences.
A brief guide to booking your holiday to Bhutan and obtaining a Tourist E-Visa, In order to easily the process of booking a holiday to Bhutan obtaining a Tourist Visa we have provided this supportive guide. Please feel free to contact us: bookbhutantour@gmail.com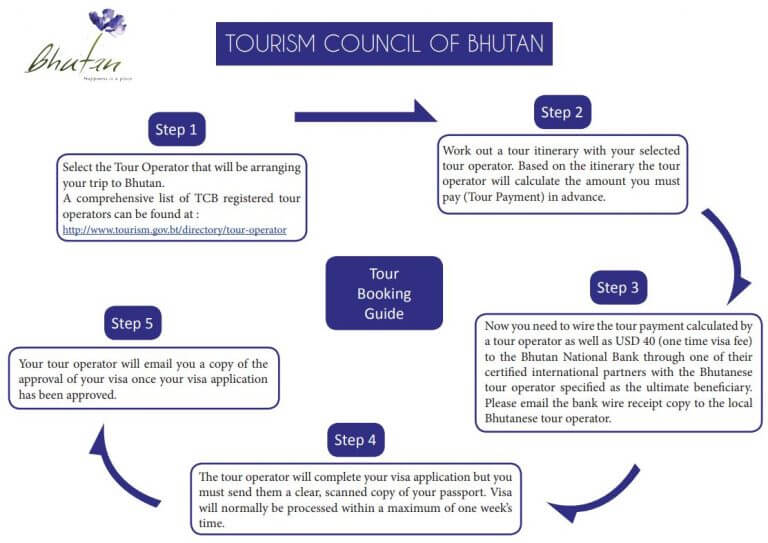 This YouTube video will guide you to book Bhutan Tour: https://www.youtube.com/watch?v=K8SDMZhTwjU&t=23s
These rates are applicable per tourist per night halt in Bhutan.
On the day of departure, the 'local agents' host obligation shall be limited to providing breakfast only and any extra requirements shall be payable on a usage basis.
The list of hotels and lodges approved to provide accommodations all listed on this website. If your accommodation is not listed on this website then it is not licensed cater for international tourists.
The Royal Government of Bhutan sets minimum selling prices for packages to Bhutan. These must be paid in US dollars prior to arrival in Bhutan.